2022.08.03
Selected as a "SDGs CHALLENGE 2022" start-up, sponsored by Hyogo/Kobe and UNOPS
SUN Co., Ltd. (Headoffice: Minato-ku, Tokyo, President and CEO: Shumpei Nakasone), was selected as a start-up of the "SDGs CHALLENGE 2022", a co-creation program that aims to solve global SDGs issues.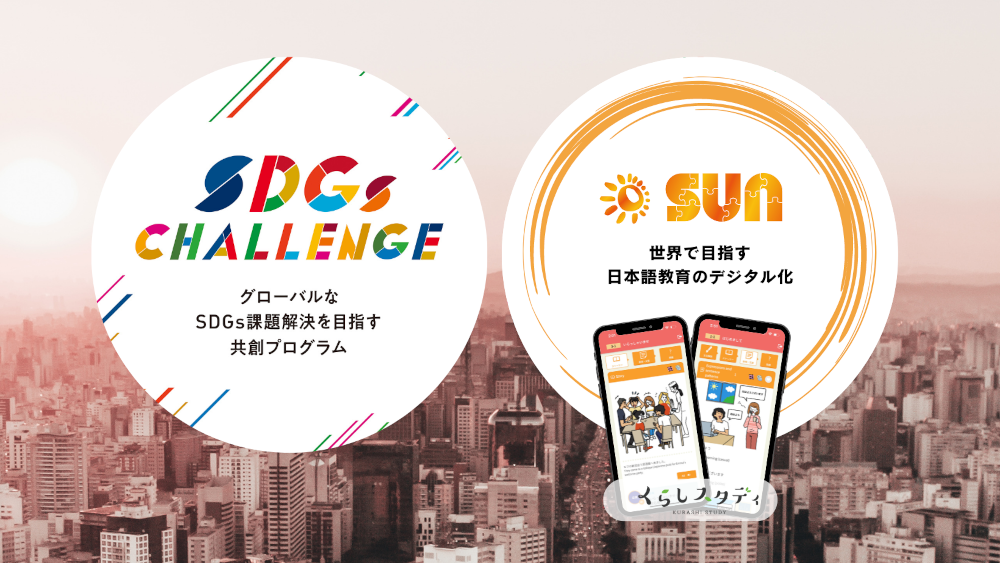 ■What is the SDGs CHALLENGE 2022?
https://sdgs-challenge.jp/
Co-creation program sponsored by Hyogo prefecture and Kobe city with UNOPS, aiming to solve global SDGs issues. The program supports business development and overseas expansion of startups and other companies that take on the challenge of solving global-scale SDGs issues, and aims to create systems and products that will create global social change from Hyogo prefecture and Kobe city.
■SUN's effort
As a solution to the social issue of Japan's declining labor force, the acceptance of foreign workers is being strengthened, but administrative support for language learning for these workers is insufficient. Furthermore, Japanese language classes, which used to be a place for language learning, have become difficult to operate due to the COVID-19 pandemic.
Therefore, SUN is promoting the digitalization of Japanese language education in Japan. We believe that the use of Edtech (digitalization of education) can lead to solutions to the problems facing Japanese-language education in Japan today. We also believe that promoting this initiative not only in Japan but also around the world will contribute to Goal 4 of the SDGs, "Quality Education for All".
■Related news
【Digitalization of Japanese Language Education】Implemented an online study management system for Kyoto City International Foundation
https://www.sun21.co.jp/news/2022/kurashi-study_kokoka.php
For children with foreign roots who cannot enter school this spring. Free campaign for Japanese language learning app supporting UN's SDGs
https://www.sun21.co.jp/news/2021/kurashi-study-cp210330.php
Supporting overseas residents during Corona! Japanese learning app "KURASHI STUDY" Only now! Free period extension campaign
https://www.sun21.co.jp/news/2021/kurashi-study-cp210303.php
■Japanese language learning app "KURASHI STUDY"
https://kurashi-study.net
KURASHI STUDY is a story-based Japanese learning app that teaches Japanese grammar, expressions, vocabulary, and pronunciation through conversation. With a total of 96 scenes based on Japanese life, you can also learn the rules of life and administrative rules necessary for living in Japan. All conversations are audio-recorded, so you can improve your Japanese "reading, listening, and speaking" skills just by using the app, without going to school. The app also has an "Online Japanese Conversation (Talk)*" service that allows you to take private lessons with a professional Japanese language teacher. You can freely ask for help with things you don't understand in your independent study, or with any problems you may have in your life in Japan. It also conforms to the scope and format of the Japanese Language Proficiency Test (JLPT), and is recommended for those aiming to acquire N5 to N2 levels.
* Online Japanese conversation(Talk) service is a paid option.
■ App overview
・Title: "KURASHI STUDY"(https://kurashi-study.net)
・Supported OS: iOS/iPad version/OS 11.0+, Android version/OS 5.0+
・Languages supported: English, Vietnamese, Japanese
・Distribution countries: Bangladesh, India, Indonesia, Japan, Malaysia, Nepal, Philippines, Thailand, Vietnam
・Development and operation company: SUN Co., Ltd
・How to download
■ SUN Co., Ltd
We are an IT company that operates a system integration business, Web design and a foreign resident support business under the corporate philosophy "To become a globally-renowned company based on our mission 'connect people with people' ". We will actively hire globally, and by connecting people, create new value and deliver innovation to the world.