"

What is SUN's project to support foreign residents in Japan?

"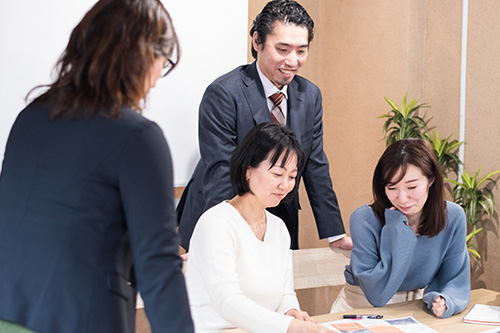 My research on recruiting foreign residents in Japan made me aware of the challenges they face in their daily lives whilst in Japan. I wanted to help them through SUN, so I started two initiatives.
Firstly, we launched the "Connect Project," an in-house project to support foreign residents in Japan. At that time, I was investigating the situation of Japanese language education when I heard that the number of foreigners living in Japan had been increasing since 2012. I also had the chance to talk with Japanese language teachers, who teach Japanese to foreigners living in Japan, and heard that there wasn't a convenient Japanese language learning app. I thought that SUN could address this need, so I decided to make a Japanese language learning app ourselves. That's how we came up with "Kurashi Study", the app which we provide. At the same time, I thought it would be convenient if there was a website with all the information necessary for living in Japan, so we launched "Kurashi Japan" for foreigners living in Japan.
Secondly, we are preparing to set up offshore bases to create employment overseas. Recently, I had the opportunity to learn more about technical intern trainees, who are often featured in the Japanese media. They come to Japan with the aim of playing a role in the economic development of developing regions, and learn Japanese skills and knowledge while working in Japan. However, when they return to their home countries after completing their training period in Japan, they often encounter difficulties in finding employment. It's a waste to have no place to utilize the skills you've learned. Therefore, in the future, SUN wants to create overseas bases, so that on returning home they can work locally. It would be great if SUN could act in the position of employer and contribute to the economy of that country!
Looking at the world, the problems and social backgrounds faced by each country are different. As SUN grows its business, and expands our overseas bases with a local awareness, we want to be mindful of our contribution to society.