2021.11.24
SUN was selected as a start-up member of the "NEXs Tokyo" operated by the Tokyo Metropolitan Government ー Aiming to expand local online Japanese language classes ー
SUN Co., Ltd. (Headoffice: Minato-ku, Tokyo, President and CEO: Shumpei Nakasone), was selected as a member start-up company of the "NEXs Tokyo" operated by the Tokyo Metropolitan Government.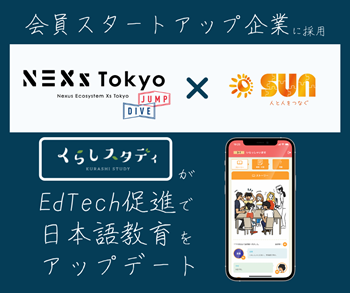 "NEXs Tokyo", operated by the Tokyo Metropolitan Government, is a project for startups that are taking on the challenge of wide-area development in Japan and abroad. Our company's Japanese language learning app "KURASHI STUDY" has been selected as a startup member of "NEXs Tokyo" in the categories of EdTech, SDGs, regional revitalization, education, web/application, and platforms.
SUN's Startup Member Introduction Page:
https://nexstokyo.jp/startup/sun/
Regarding the problem of Japan's declining population, the government has been taking measures to strengthen the acceptance of foreign workers by establishing a new residency status, the "特定技能制度 (Special Skills System)" in 2019. In November 2021, it was announced that the government is considering expanding the acceptance of the "2号 (second category)" of "特定技能 (specified skills)", which allows for long-term residence and family accompaniment. With the ongoing review of the system that allows for de facto permanent residence, the acceptance of foreign workers in Japan is expected to increase further in the future. However, the current situation is that the national and local governments are not prepared to accept them. Community Japanese language classes, for foreign residents to learn Japanese locally, are now difficult to hold due to COVID-19, and we are unable to provide sufficient educational opportunities.
"KURASHI STUDY", released by our company in March 2021, is a story-based Japanese language learning app that captures scenes from Japanese life. With a total of 96 episodes of 20 minutes of study per episode, you can study "reading, listening, and speaking" all in one app. Grammar, expressions, vocabulary, listening, etc. can be studied just like in a school class, and can also be used as online learning materials. In July 2021, we held our first online class using the app with the Kyoto International Foundation.
(For more details:https://www.sun21.co.jp/news/2021/online_japanese_classes.php)
Through the "NEXs Tokyo" initiative, we hope to strengthen our ties with local governments. In cooperation with local governments and educational organizations, we aim to promote "Local Japanese Language Education x EdTech" and provide online Japanese language classes to foreign residents who have lost the opportunity to learn Japanese.
■ What is "NEXs Tokyo"
https://nexstokyo.jp/
"NEXs Tokyo" is a project run by the Tokyo Metropolitan Government for startups that are challenging to expand their business both domestically and internationally. Making the most of the resources of Tokyo, a hub of information and human networks, it supports startups that aim to expand their business to a wide area, both domestically and internationally, in cooperation with other parts of Japan. Based on the "NEXs Tokyo" community, which transcends the barriers of sector, industry, and region, it aims to form a wide-area startup ecosystem and create further innovation and industrial promotion.
■ Japanese learning app "KURASHI STUDY"
https://kurashi-study.net
KURASHI STUDY is a story-based Japanese learning app that teaches Japanese through conversation. The 96-scene story captures real life in Japan, and all the conversations of the characters are audio recorded. In addition to learning real Japanese, you can also learn the rules of daily life and administration necessary for living in Japan. The "Online Japanese Conversation (Talk)" service allows you to take private lessons with a qualified Japanese language teacher, supporting your independent study. You can learn "reading, listening, and speaking" in one app, which can also be used to prepare for the JLPT N5 to N2 levels.
■ SUN Co., Ltd.
We are an IT company that operates a system integration business, Web design and a foreign resident support business under the corporate philosophy "To become a globally-renowned company based on our mission 'connect people with people' ". We will actively hire globally, and by connecting people, create new value and deliver innovation to the world.