2022.11.22
Kurashi Study, a Japanese language learning app with over 190K downloads, has been released in Australia, South Korea and Taiwan.
SUN (Headoffice: Minato-ku, Tokyo, President and CEO: Shumpei Nakasone) has released the Japanese language learning app "KURASHI STUDY" in Australia, South Korea and Taiwan on Tuesday 22 November.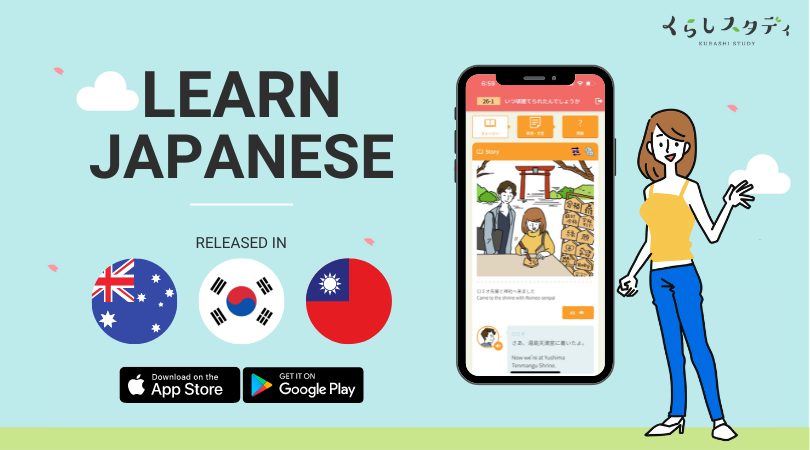 KURASHI STUDY is a Japanese language learning app that helps learning Japanese grammar, expressions, vocabulary and pronunciation from a total of 96 conversation-based episodes. It is currently available in 20 countries around the world, with a total of more than 190,000 downloads (as of September 2022).Australia, South Korea and Taiwan, the last countries to release the app in 2022, are also known for their large numbers of Japanese language learners.
According to a survey published by the Japan Foundation in 2018, the world's ranking of Japanese language learners is as follows: 3rd South Korea, 4th Australia and 7th Taiwan. We hope that our app will be used not only as a self-study tool, but also as an online teaching resource for local language schools and Japanese schools.
■Japanese language learning app "KURASHI STUDY"
As you progress through the Japanese language learning app "KURASHI STUDY" you will learn not only the language, but also the manners and rules necessary for life in Japan. The "Online Lesson", an optional paid feature, allows you to take one-on-one lessons with a professional Japanese language teacher and improve your reading, listening, and speaking skills without going to school. The scope and format of the JLPT (Japanese Language Proficiency Test) N5 to N2 level questions are also covered.
■Special Offer to Celebrate area expansion
To celebrate the release of the area expansion of the app, KURASHI STUDY will hold a special offer of half price for the first one-month plan. For details, please see the press release below.
https://www.sun21.co.jp/en/news/2022/kurashi-study_offer22nov.php
App overview
Title
KURASHI STUDY
Distribution countries
Australia, Bangladesh, Brazil, Canada, France, Germany, India, Indonesia, Italy, Japan, Korea, Malaysia, Nepal, Philippines, Spain, Taiwan, Thailand, U.K., U.S.A., Vietnam
Supported OS / Recommended operating environment
iOS/iPadOS 11.0 +, AndroidOS 5.0+
Languages supported
English, Japanese, Vietnamese
Development and operation company
SUN Co., Ltd
Official website
https://kurashi-study.net
How to download
▼App Store:
https://apps.apple.com/jp/app/id1542314715
▼Google Play:
https://play.google.com/store/apps/details?id=net.kurashi.study
■SUN Co., Ltd
https://www.sun21.co.jp/
We are an IT company that operates a system integration business, Web design and a foreign resident support business under the corporate philosophy "To become a globally-renowned company based on our mission 'connect people with people' ". We actively hire globally, and by connecting people, create new value and deliver innovation to the world.