SUN has been certified by the Tokyo Metropolitan Government as a company that practices the "Telework Tokyo Rules".
SUN Co., Ltd. (Headoffice: Minato-ku, Tokyo, President and CEO: Shumpei Nakasone) is pleased to announce that we have been certified by the Tokyo Metropolitan Government as a company that practices the "Telework Tokyo Rules".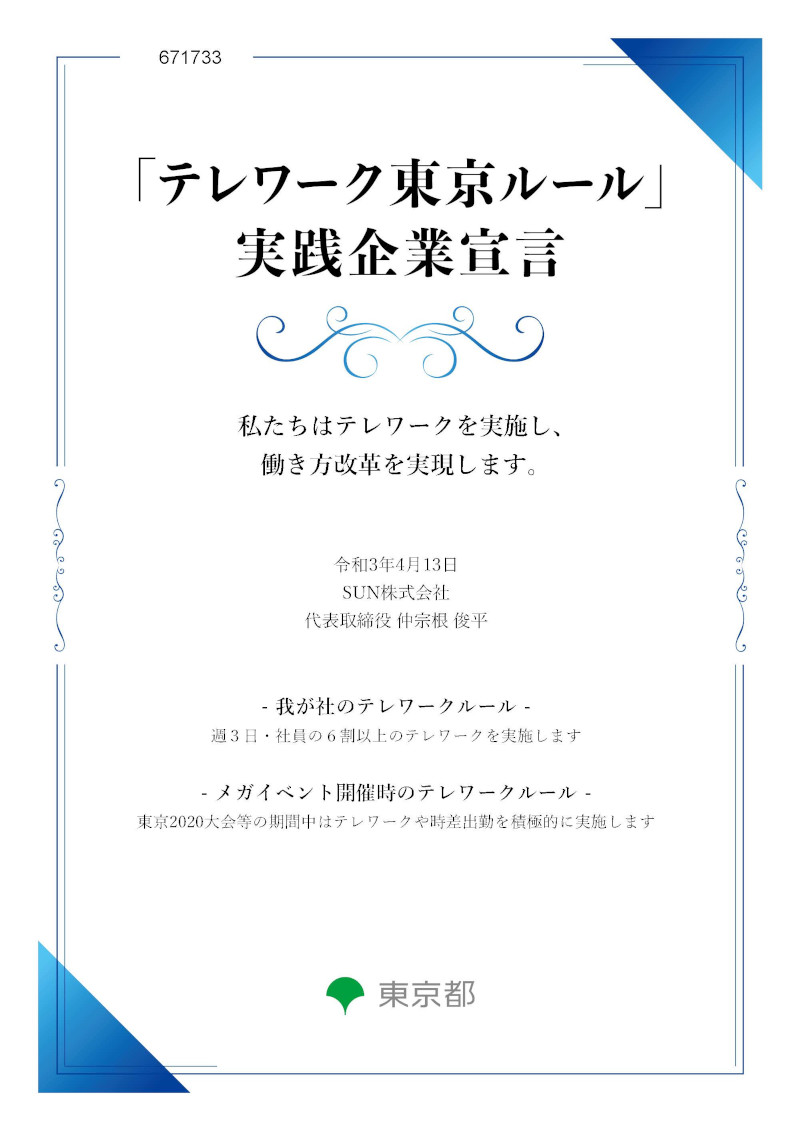 SUN has declared the following as our commitment to telework.
Implement telework for 3 days a week and more than 60% of employees
Actively implement telework and staggered work hours during the Tokyo 2020 Games and other events
"Telework Tokyo Declaration" registration information page
"Telework Tokyo Rules" SUN Co., Ltd.
■ SUN's Telework Achievements
Since April 2020, when the novel coronavirus spread rapidly, SUN has introduced telework. Currently, more than 85% of the employees at the Tokyo Head Office and more than half of the employees at all locations telework at least 4 times a week.

In addition, to prevent communication among employees from growing apart due to telework, various efforts are being taken, such as holding web interviews, web lunch meetings, web young staff meetings, and other events. We will continue our efforts to promote and establish telework without making it a temporary measure.
■ Comments from SUN's President
We introduced telework on a full scale in April 2020. In the beginning, we were busy with preparations such as purchasing equipment and establishing the system, but now both the company and employees are getting used to working from home, and I feel that productivity has increased in some operations.
In addition, the introduction of telework has enabled employees to choose new ways to spend their time, as they no longer have to commute and have more free time. I feel that this is leading to the enrichment of their work and life, such as spending time with their families or investing in themselves.
■ What is "Telework Tokyo Rule" Practical Company Declaration 
https://www.telework-rule.metro.tokyo.lg.jp/
The Tokyo Metropolitan Government's system for declaring companies that practice the "Telework Tokyo Rules" is based on the 5 strategies of the Telework Strategy Vision, and each company formulates and declares its own rules according to its actual situation.
■ SUN Co., Ltd.
We are an IT company that provides services for system integration, foreign resident support, and IT human resources. Our company mission is "To become a globally-renowned company based on our mission 'connect people with people' ". We will actively hire globally, and by connecting people, create new value and deliver innovation to the world.