2022.11.02
SUN Speaks at Online Learning Forum 2022 Talk about the Use of Study Logs in Japanese Language Education
SUN (Headoffice: Minato-ku, Tokyo, President and CEO: Shumpei Nakasone) will be speaking at Online Learning Forum 2022, the only comprehensive forum in Japan to discuss the current state and future of online education and training. At the seminar, we will speak about the use of Study Log in the Japanese language education.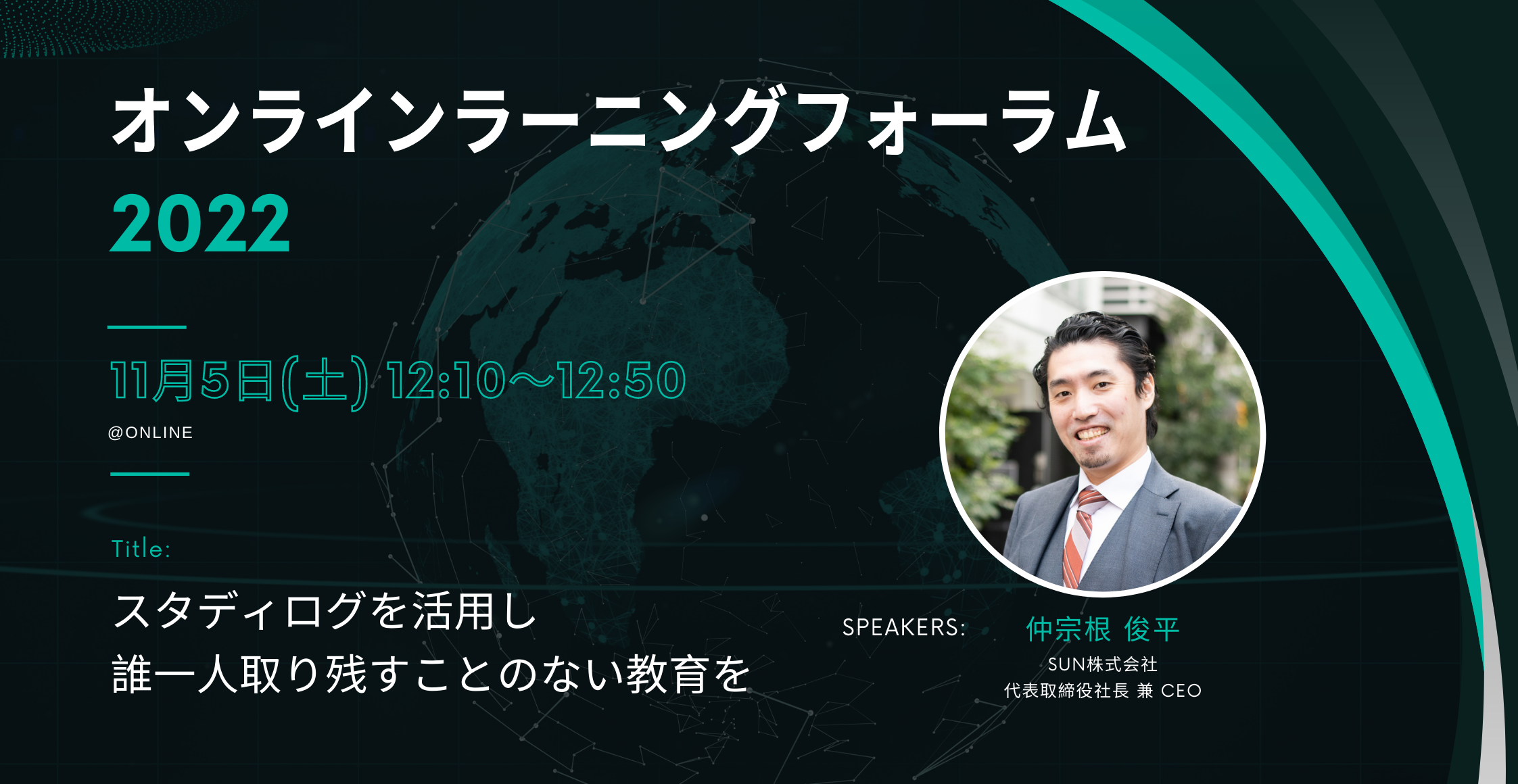 ■Contents of SUN Seminar
| | |
| --- | --- |
| Title | Use the Study Log to provide education that leaves no one behind. |
| Outline | The digitalization of education has been proceeding rapidly in recent year. How should we take advantage of it after covid-19? What we need to focus on is minorities who do not have sufficient access to educational opportunities. Online can be used to provide education regardless of time and place, and the use of study logs is a key to solving the problem of teacher shortages. This session will explore the issues in education with an example from Japanese language education, and then consider the benefits of using IT and data after covid-19. |
Time: November 5 (Sat) 12:10-12:50
Speaker: Shumpei Nakasone, President and CEO, SUN Co.,ltd
For application and details, please visit here.
https://www.elearningawards.jp/program4detail.html#4
■Outline of "Online Learning Forum 2022"
http://www.elearningawards.jp/
Dates: November 1 (Tue), 2 (Wed), 4 (Fri), 5 (Sat), 8 (Tue), 9 (Wed), 10 (Thu), 11 (Fri), 2022 9:30 – 18:20
Venue: Online streaming
Organizers: Japan Online Education Industry Association / Fujisankei Business i
Admission: Free (membership registration and pre-registration are required)
■About Online Learning Forum
The Online Learning Forum is the only comprehensive forum in Japan that introduces, presents, and discusses the current status and future of online education and training, including e-learning, with a wealth of case studies. The "Japan e-Learning Awards" and "IMS Japan Awards," which honor outstanding examples of the use of technology in education, will be presented live, and the latest knowledge and solutions for online education will be gathered in one place.
■SUN Co., Ltd
https://www.sun21.co.jp/
We are an IT company that operates a system integration business, Web design and a foreign resident support business under the corporate philosophy "To become a globally-renowned company based on our mission 'connect people with people' ". We actively hire globally, and by connecting people, create new value and deliver innovation to the world.