2021.07.20
First collaboration with Kyoto City International Foundation Online classes using Japanese language education App Supporting foreign residents during and after the Covid pandemic
SUN Co., Ltd. (Headoffice: Minato-ku, Tokyo, President and CEO: Shumpei Nakasone), the operator of the Japanese language learning app "KURASHI STUDY", held its first "Online Japanese Class using the app as a teaching material" with the Kyoto City International Foundation on Saturday, July 17.
SUN will continue to cooperate with the Kyoto City International Foundation to provide support for foreign residents.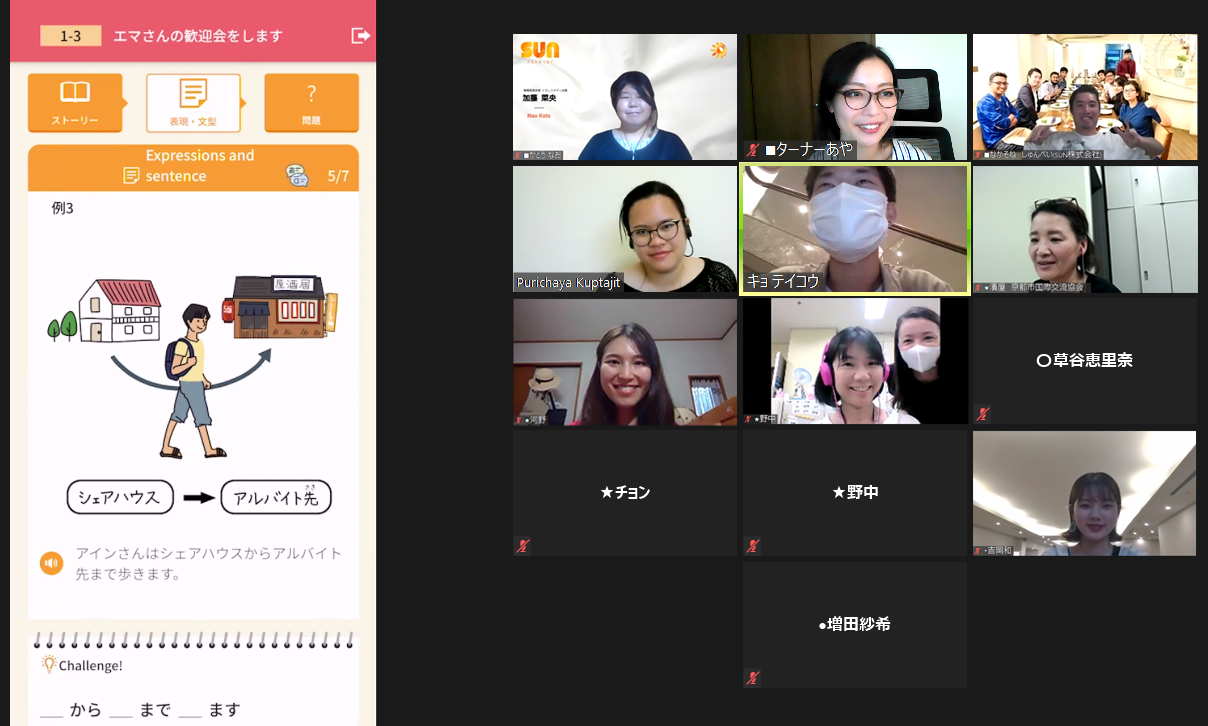 ■Story
Community Japanese language classes used to be held in local communities for foreigners living in Japan. However, from the perspective of preventing the spread of Covid-19, it is now difficult to hold face-to-face classes, and many communities are unable to provide sufficient opportunities for foreign residents to learn Japanese. Many groups and organizations that have been holding Japanese language classes are trying to shift to online classes, but they are facing the following challenges.
Some examples of challenges faced in moving to online
Paper teaching materials are used, and sharing them takes up a lot of time, including scanning and emailing
IT skill shortages, making it difficult to even prepare the environment.
Teachers are volunteers, and if they do not have much experience, teaching online will be difficult, and the number of people who can handle it would be limited and personalized.
This is why SUN has begun to introduce a method of operating online Japanese language classes using apps as teaching materials. "KURASHI STUDY", a Japanese language learning app provided by SUN, includes grammar explanations, practice questions, audio, and other textbook-like content that can be used as teaching materials. With the smartphone as the teaching material, we believe that teachers and students will be able to have the same teaching materials regardless of location, making it possible to hold online Japanese classes anywhere.
In order to implement this project, SUN contacted organizations that provide support for foreign residents and decided to work with the Kyoto City International Foundation, which agreed with the purpose of the project. In the future, we will continue to strengthen our support for foreign residents who have lost their educational opportunities, as we move towards a post Covid-19 period.
■Staff comment
Kyoto City International Foundation "Online Japanese Learning Support" Staff Nonaka
In April of this year, I launched an online Japanese class. I keenly feel the increasing demand for online classes now that opportunities to talk with people are decreasing due to Covid-19. While there are still not many materials for teaching online, I felt that by using the app, there is a possibility that the teacher can engage in the class without being overwhelmed. Through repeated trial and error, we will continue to aim to provide classes that can be used by as many people as possible.
SUN Co., Ltd. (Headoffice: Minato-ku, Tokyo, President and CEO: Shumpei Nakasone)
In the Middle of Covid-19. Many of the face-to-face Japanese language classes for foreign residents have been closed and have yet to be reopened. In such a situation, the Kyoto International Foundation is actively working to utilize ICT in the industry with an eye on the future of Japanese language education. Online based class management will help people from all walks of life, including students, working people, and housewives, to participate in the classroom at any time and place. We hope to continue this kind of initiative in the future to support all foreign residents who have lost the opportunity to learn Japanese.
■About the event
Description: Online Japanese class using the app "KURASHI STUDY"
Date: Saturday, July 17, 18:00-19:00
Place: Held online
Fee: Free
■Kyoto City International Foundation https://www.kcif.or.jp/
The Kyoto City International Foundation, located in Sakyo-ku, Kyoto City, was established with the aim of promoting international exchange in the local community and is working hard to improve the environment for foreigners living in the area to learn Japanese. The Kyoto City International Foundation is working to improve the Japanese language learning environment for foreign residents in the region. The organization is also working to enhance its support for foreign residents while strengthening cooperation with companies and local communities, and are planning to build our own online learning system in 2021 using the Agency for Cultural Affairs' "Project to Promote Comprehensive Regional Japanese Language Education System". In the run-up to the establishment of the system, we are also making efforts to train learning supporters, such as conducting online Japanese language classes with the cooperation of student volunteers.
■What is "KURASHI STUDY" https://kurashi-study.net
"KURASHI STUDY", a language learning app that helps users learn both Japanese and about living in Japan through stories. It was developed for foreign residents who feel language barriers and for foreigners who want to learn Japanese and come to Japan, and features not only language learning but also the knowledge of daily life necessary for living in Japan, such as administrative rules. In addition to the basic skills of reading, listening, and speaking that can be learned with one app, the app also offers preparation for the Japanese Language Proficiency Test (JLPT) N5 to N2 levels and online Japanese lesson where you can communicate one-on-one with a Japanese language teacher. Focusing on "Japanese used in daily life", it introduces Japanese expressions that are seen and heard in daily life but are not often covered in textbooks.
■Related news
■SUN Co., Ltd.
We are an IT company that provides services for system integration and foreign resident support. Our company mission is "To become a globally-renowned company based on our mission 'connect people with people' ". We will actively hire globally, and by connecting people, create new value and deliver innovation to the world.