2021.03.05
SUN's launch of the Japanese learning app "KURASHI STUDY" was reported in the media.
Published:
March 3, 2021
Media coverage by:
Niconico New
ICT-enews.net
THE SANKEI NEWS
TOYOKEIZAI ONLINE
CNET JAPAN
PR TIMES
Asahi Shimbun DIGITAL &M
RBBTODAY
JIJI.COM
OSDN Magazine
BRIDGE
PRESIDENT Online
ZDNet Japan
JBpress
Newsweek
ORICON NEWS
iza
SANSPO.COM
Infoseek News
excite News
BIGLOBE News
Techable
Urepia soken
@DIME
Zaikei shimbun
NewsCafe
BtoB Platform
Okutama zaikei shimbun
Jorudan News!
Mapion News
BEST TIMES
Fresh eye
@nifty Business
SEOTOOLS
Toremaga News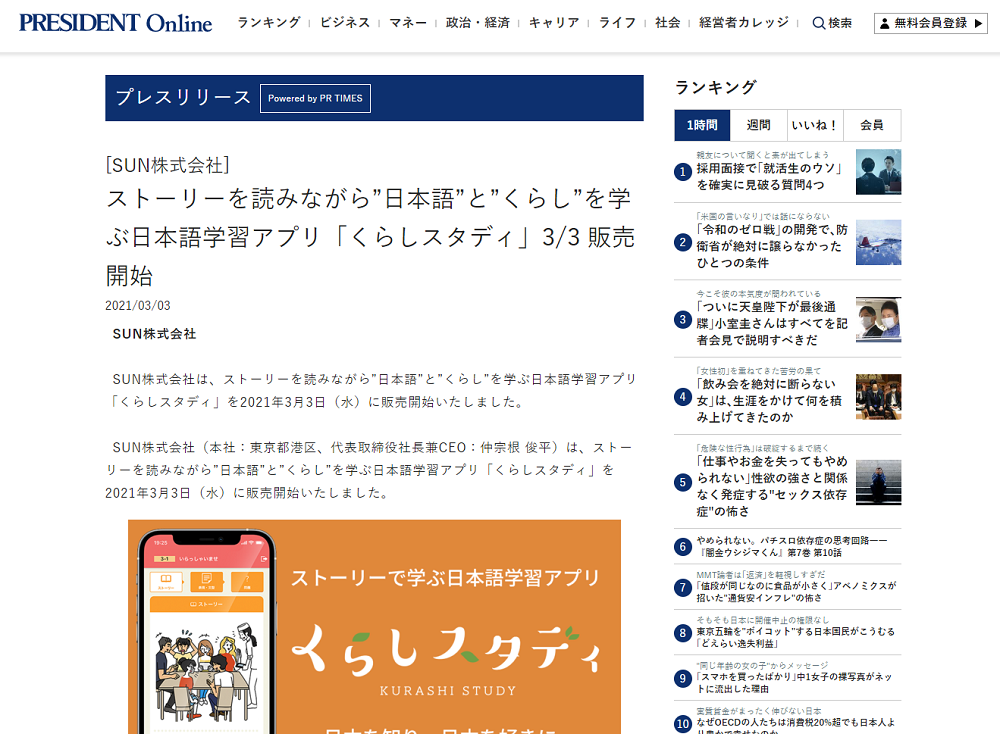 Please check our press release for more details:
Japanese learning app "KURASHI STUDY" was launched on March 3, 2021. Learn both the Japanese language and about living in Japan through stories.
Related links:
Supporting overseas residents during Corona! Japanese learning app "KURASHI STUDY" Only now! Free period extension campaign