2023.03.23
Congratulations to Japan's WBC 2023 Win! Japanese Language Learning App with Over 200K DLs 70% Off to subscribers in 19 countries
SUN (Head office: Minato-ku, Tokyo, President and CEO: Shumpei Nakasone) announces the 70% off special offer for its Japanese language learning app " KURASHI STUDY" starting Friday, March 24, to celebrate Japan's championship in the World Baseball Classic (WBC). The subscription "1-month plan (regular price 980 yen)" will be offered for 300 yen for the first purchase only.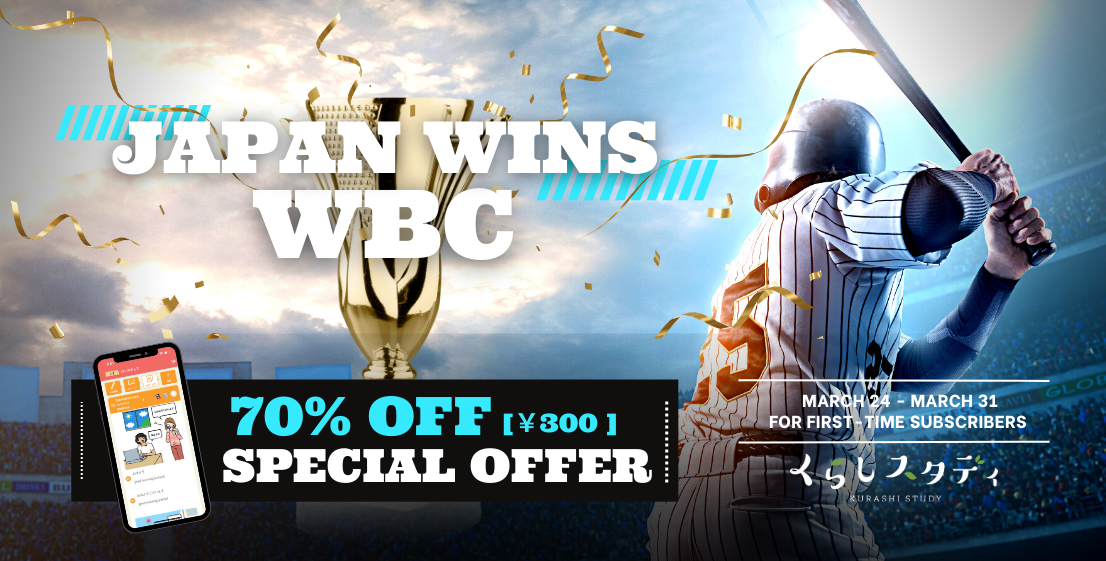 ■Outline of the offer
Name: Japan's WBS Win Special Offer
Description: Subscription "1-month plan" offered at 70% discount (300yen)
Eligibility: First-time subscribers to KURASHI STUDY's paid plans during the promotion period
Period: March 24, 2023, 15:00 to March 31, 2023, 15:00 (JST)
■ Background of the offer
SUN has been an official sponsor of the Bangladesh National Baseball Team since January 2023, and has begun activities to encourage communication among people and companies across borders through baseball. We are very pleased that Japan's national team won the WBC in the same year 2023, and we decided to implement the promotion campaign to celebrate and express our appreciation.
As the keyword "JAPAN" has been picked up in social media trends outside of Japan, Japan's victory in the WBC has brought attention to Japan from around the world. We hope that those who are interested in Japan and start learning Japanese, or those who come to Japan for sightseeing, will use "KURASHI STUDY", a Japanese language learning app, to study Japanese.
■SUN has Joined as an Official Sponsor of the Bangladesh National Baseball Team
SUN has joined as an official sponsor of the Bangladesh National Baseball Team from January 2023 as part of activities to "connect people with people" through baseball. Through sports, we expect to grow the relationship between Japan and Bangladesh. SUN also expects to cooperate with the companies it meets through this project in their business aspects and provide both sides with an opportunity to grow their businesses.
Related Links:
Bangladesh National Baseball Team and Japanese IT company SUN signed a sponsorship agreement
https://www.sun21.co.jp/en/news/sponsorship-agreement2023/
■Japanese language learning app "KURASHI STUDY"
https://kurashi-study.net
"KURASHI STUDY" is a Japanese language learning app that has hit over 190K+ DLs (as of September 2022). The story-based curriculum helps users learn Japanese grammar, expressions, vocabulary, pronunciation, etc. from a total of 96 stories with voice-recorded conversation. As you progress through the study, you will learn not only the Japanese language, but also the rules necessary for living in Japan. One-on-one "online lessons" with a professional Japanese teacher are also available as an optional service. This allows students to improve their "reading, listening, and speaking" skills without going to school. The curriculum also meets the coverage and question format of the JLPT N5 to N2 levels.
■App overview
Title
KURASHI STUDY
Distribution countries
Australia, Bangladesh, Brazil, Canada, France, Germany, India, Indonesia, Italy, Japan, Korea, Malaysia, Nepal, Philippines, Spain, Taiwan, Thailand, U.K., U.S.A., Vietnam
Supported OS / Recommended operating environment
iOS/iPadOS 11.0 +, AndroidOS 5.0+
Languages supported
English, Japanese, Vietnamese
Development and operation company
SUN Co., Ltd
Official website
https://kurashi-study.net
How to download
▼App Store:https://apps.apple.com/jp/app/id1542314715
▼Google Play:https://play.google.com/store/apps/details?id=net.kurashi.study
■SUN Co., Ltd
https://www.sun21.co.jp/
We are an IT company that operates a system integration business, Web design and a foreign resident support business under the corporate philosophy "To become a globally-renowned company based on our mission 'connect people with people' ". We actively hire globally, and by connecting people, create new value and deliver innovation to the world.