2021.04.15
Supporting the future of Japanese Language Education "KURASHI STUDY", the Japanese Language Learning App for Foreign Residents, exhibiting for the first time at the 2021 Spring Education Summit
SUN Co., Ltd. (Headquarters: Minato-ku, Tokyo, President and CEO: Shunpei Nakasone) sun will present for the first time at the 2021 Spring Education Summit, an online exhibition for the education industry, to be held April 21 (Wed.) ~ 23 (Fri.).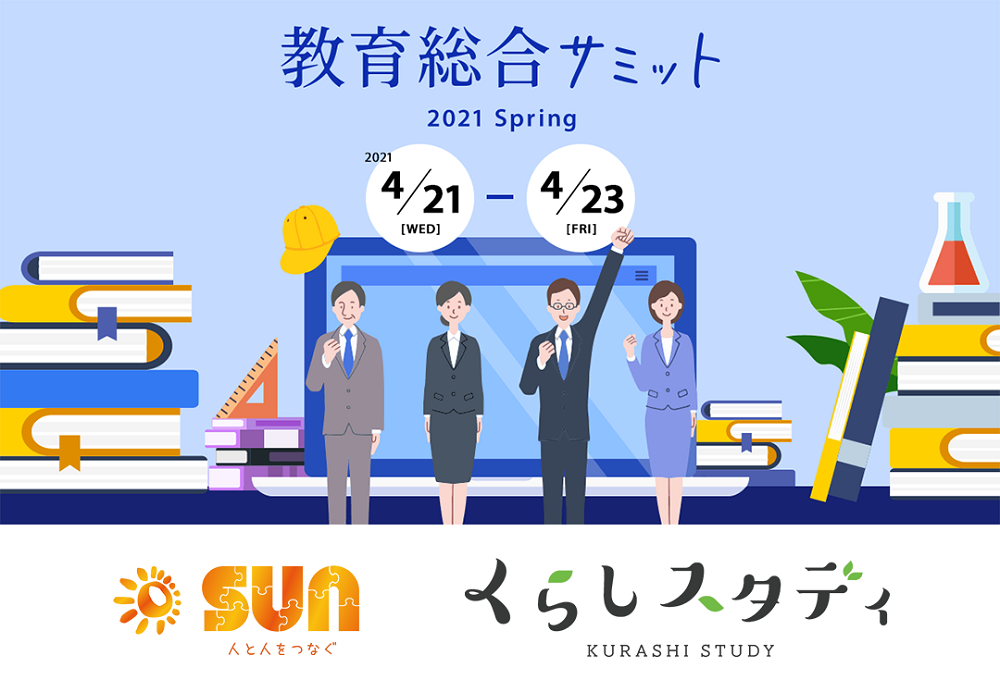 ■ Exhibition details
At the SUN booth, we will exhibit "KURASHI STUDY", a Japanese learning app released on March 3, 2021. We will also have additional space for discussing Japanese language education and the challenges being faced by companies, local governments, and educational institutions. Answering those issues will be CEO Nakasone, who actively promotes the employment of foreigners, and the Japanese language teacher who created the teaching materials for the app from scratch.
Features of "KURASHI STUDY", a Japanese learning app https://kurashi-study.net
1. Story-based Japanese learning app for both the language and life in Japan
2. Learn the knowledge necessary for living in Japan, such as everyday or administrative rules
3. Naturally acquire the skills of JLPT levels N5 ~ N2
4. Online lessons with Japanese language teachers also available, providing "reading, listening, and speaking" in a single app!
■ Event outline
Name: 2021 Spring Education Summit (https://showbooth.dmm.com/education/)
Date: April 21 (Wed.) – 23 (Fri.), 2021 10:00 – 18:00
Venue: Education Summit website (online)
Entry: Free admission (Registration required; please register on the website)
■ Related media
■ SUN Co., Ltd.
SUN is an IT company that operates a system integration business and a foreign resident support business under the corporate philosophy "To become a globally-renowned company based on our mission 'connect people with people' ". We actively hire globally, and by connecting people, create new value and deliver innovation to the world.