2021.06.10
Enhancing the support for Japanese language learning for foreign residents! Inclusive free content now available!
SUN Co., Ltd. (Headquarters: Minato-ku, Tokyo, President and CEO: Shunpei Nakasone; hereinafter referred to as "SUN") has started to offer some content, of its Japanese language learning app KURASHI STUDY, free of charge from Wednesday, June 9, 2021.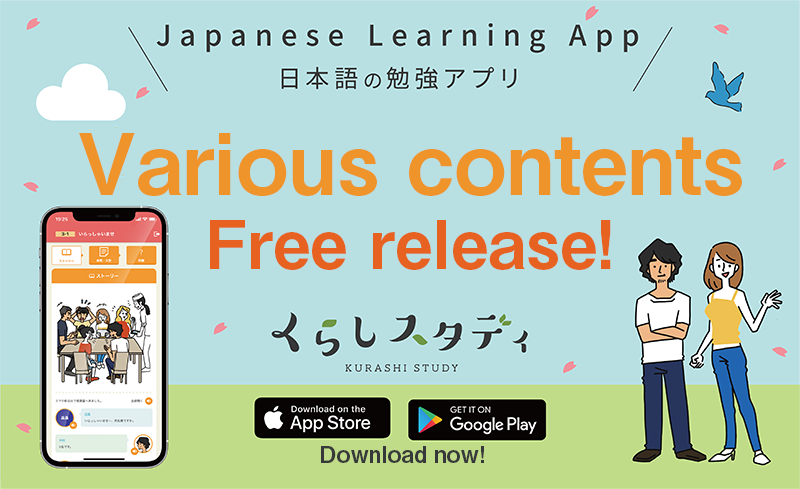 ■What is "KURASHI STUDY" https://kurashi-study.net
A Japanese language learning app that teaches the basic skills of reading, listening, and speaking in a well-balanced manner through stories. It features many Japanese words that are useful in daily life in Japan, such as Japanese customs, daily life rules, colloquial and young popular expressions. It is also equipped with an online conversation function that allows users to consult with professional Japanese language instructors about study and daily life, and is recommended for those aiming to master the N5 to N2 levels of the Japanese Language Proficiency Test (JLPT).
■Content to be released for free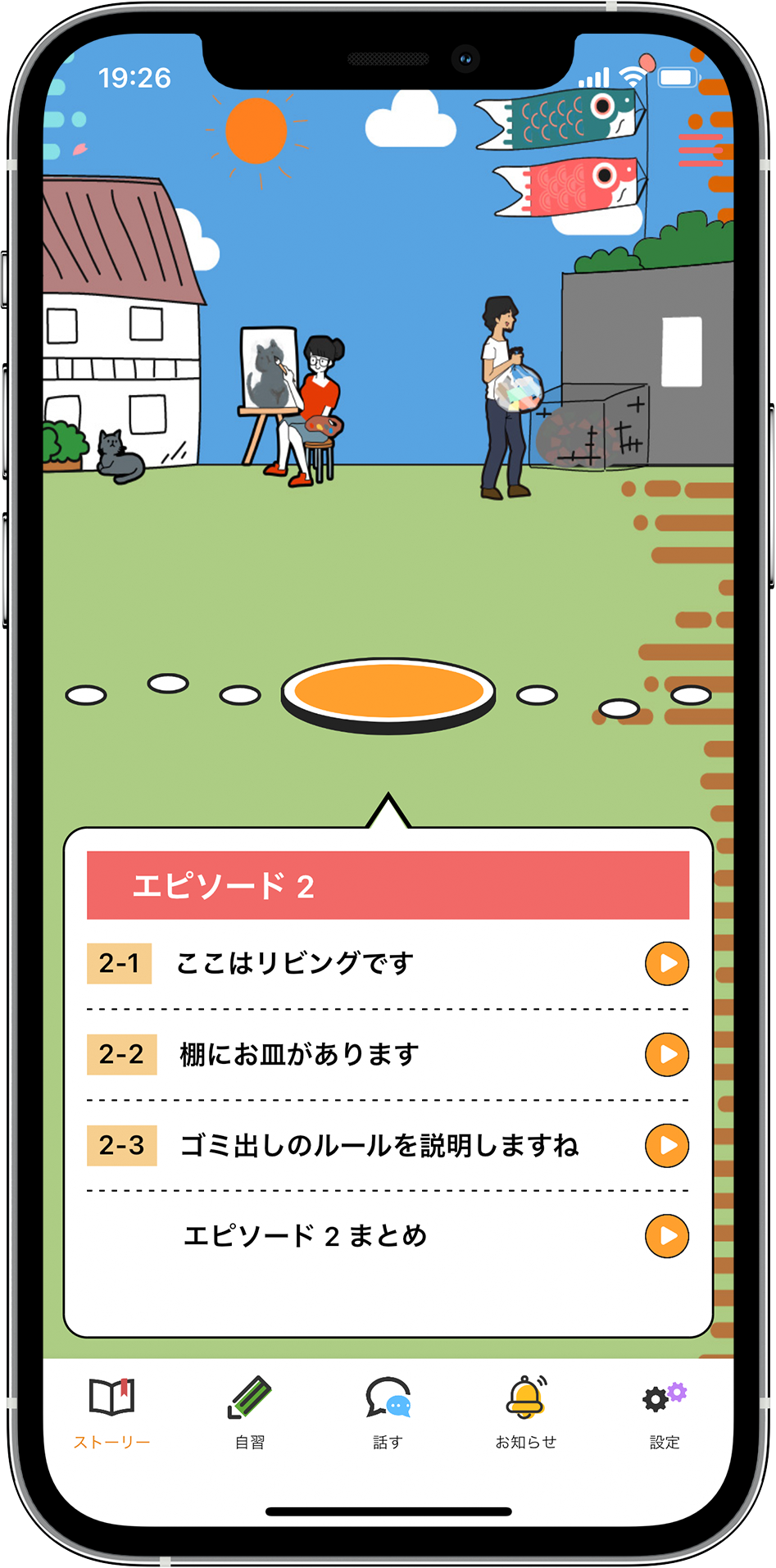 1. Story mode starts with 4 free stories
Story mode, the main function of this app, where you can learn sentence patterns, vocabulary, and Japanese expressions through the stories and conversations of the characters. Contains a total of 96 stories, 4 of which are now available for free. Every story includes practice questions based on the format of the Japanese Language Proficiency Test (JLPT).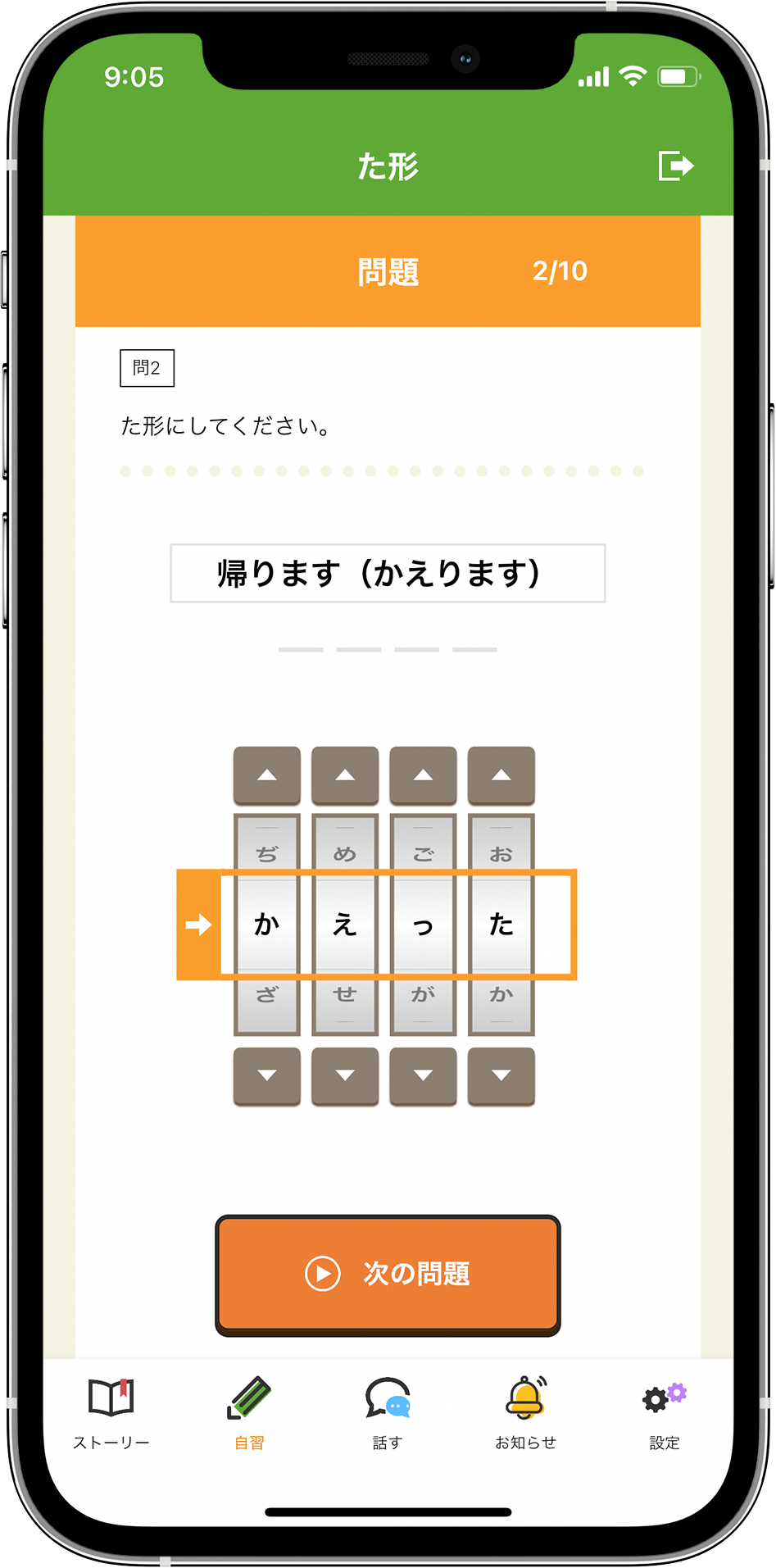 2. All functions of Self-study mode are free without any restrictions!
All functions of Self-study mode, which supports independent study, are now free. Functions that make learning fun, such as verb conjugations, word lists, and how to read clocks and dates. Enhanced illustrations and audio, support repeated learning using pictures, letters, and sounds.
■KURASHI STUDY features
1. Learn real Japanese without having to go to a Japanese language school
2. Learn everyday useful Japanese, including Japanese culture and living rules
3. Naturally acquire JLPT N5-N2 level abilities
4. Consult with professional Japanese teachers in one-on-one online lessons
<Click here for more info>
Official website:https://kurashi-study.net
<Click here to download the app>
■KURASHI STUDY app overview
– Title: KURASHI STUDY
– Supported / recommended OS: iOS (iPhone & iPad) 11.0+, Android 5.0+
– Development / operating company: SUN Co., Ltd.
– Release date: March 3, 2021
– Price:
<Subscription fee> 1 month plan 980 yen, 3 month plan 2800 yen, 6 month plan 4900 yen
<Online lesson ticket fee> 1 ticket = 1100 yen, 4 tickets = 4040 yen, 8 tickets = 7000 yen
■Related news
"KURASHI STUDY", a language learning app that helps users learn both Japanese and about living in Japan through stories
■SUN Co., Ltd.
We are an IT company that provides services for system integration, foreign resident support, and IT human resources. Our company mission is "To become a globally-renowned company based on our mission 'connect people with people' ". We will actively hire globally, and by connecting people, create new value and deliver innovation to the world.