2021.03.31
For children with foreign roots who cannot enter school this spring. 14 day free campaign for Japanese language learning app supporting UN's SDGs
SUN Co., Ltd. (Headquarters: Minato-ku, Tokyo, President and CEO: Shunpei Nakasone) is extending the free campaign for the Japanese language learning app "KURASHI STUDY", supporting children who need to learn Japanese, in unison with the UN's Sustainable Development Goal 4: "High quality education for everyone".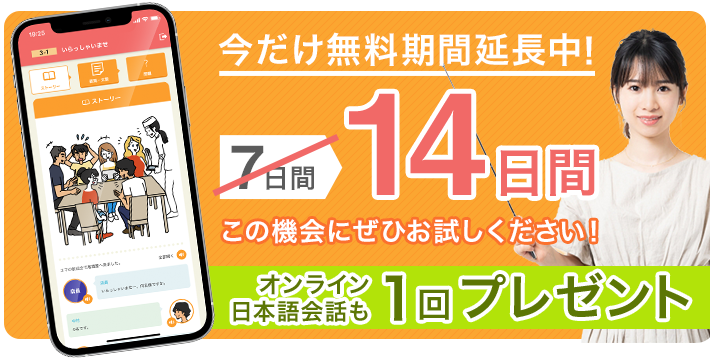 ■Campaign info
1. App free period extended to 14 days (usually 7 days)
2. One free online conversation lesson (equivalent to 1,100 yen)
<Campaign period> April 1, 2021 ~ April 30, 2021.
<Campaign conditions> Those who are registering for the first time, and the 14 day free period will start from the date of registration.
■Campaign background
Goal 4 of the SDGs states: Ensure inclusive and equitable quality education and promote lifelong learning opportunities for all. In other words, the goal is to provide people around the world with equal opportunities to receive education regardless of their country of birth, region, family, or gender.
The Ministry of Education, Culture, Sports, Science and Technology (MEXT) released the final results of a survey on the school attendance of foreign children in March 2020, reporting that 19,471 foreign children may not be attending school.
For those foreign children whose school enrolment or attendance status is unknown, about 65% of the local governments answered that they have no particular policies for measuring or promoting their school attendance. Foreign workers have been attracting attention in recent years as a key to solving the labor shortage caused by Japan's declining population. However, many foreign workers are in a difficult position, such as being laid off or having their working hours reduced due to the impact of the Corona pandemic, and the government is not providing sufficient support.
In order to address this issue of education for children of foreign residents in Japan, and in support of UN's SDG Goal 4, we have decided to extend the free period of the Japanese language education app "KURASHI STUDY". We would like to provide Japanese language learning opportunities to those children that may have diverse backgrounds. The campaign also includes one online conversation lesson, where you can talk with a Japanese language teacher one-on-one. We hope that this will help alleviate some of the anxiety of foreign residents and their children, as they will be able to discuss issues regarding their study, or their daily lives.
■ What is "KURASHI STUDY" https://kurashi-study.net
"KURASHI STUDY" is a Japanese learning app and by advancing through the stories, teaches both the Japanese language and about living in Japan. It has been developed for foreigners, those resident in Japan who want to overcome language barriers, and for those who want to learn Japanese before coming to Japan, and features language learning whilst providing the necessary knowledge for living in Japan, such as administrative rules for daily life. This single app helps the learner develop the basic skills of reading, listening, and speaking, also inclusive support for the JLPT levels N5 to N2, plus the additional offer of online Japanese conversations through one-on-one communication with a Japanese language teacher. With a focus on "Japanese used in daily life", the app introduces Japanese expressions that are seen and heard everyday in Japan, but yet are rarely taught in regular textbooks.
<Download the app here>
■Related news
"KURASHI STUDY", a language learning app that helps users learn both Japanese and about living in Japan through stories
■ SUN Co., Ltd.
SUN is an IT company that operates a system integration business and a foreign resident support business under the corporate philosophy "To become a globally-renowned company based on our mission 'connect people with people' ". We actively hire globally, and by connecting people, create new value and deliver innovation to the world.