2022.03.23
Japanese Learning App with Over 80000 Downloads Released New Function "KURASHI Quiz": Compete with Users Around the World
SUN Co., Ltd. (Headoffice: Minato-ku, Tokyo, President and CEO: Shumpei Nakasone) has added a 'KURASHI Quiz' function to its Japanese language app "KURASHI STUDY", which enables users to solve problems as if they were playing a game. Users can now study Japanese while competing with other users around the world. A campaign for unlimited access to the quiz function will be offered with the release.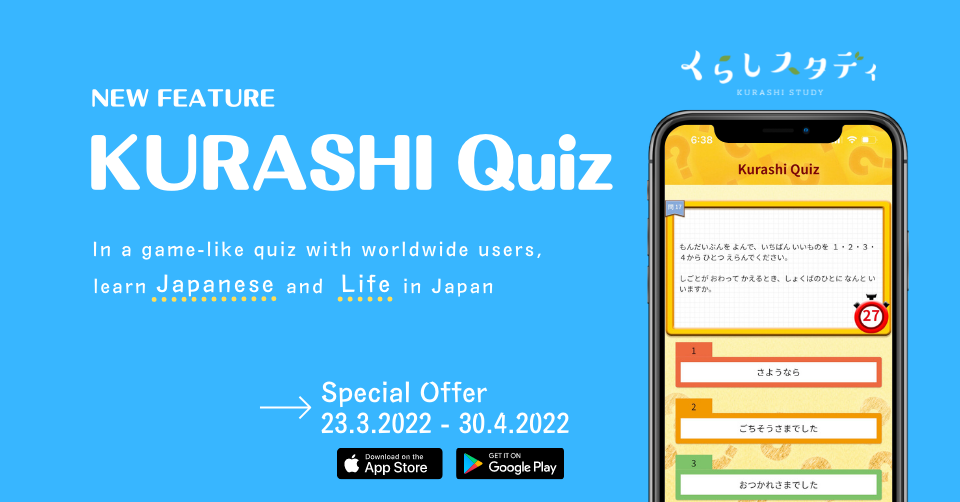 ■ What is "KURASHI Quiz"
This quiz function enables users to enjoy learning Japanese language by solving questions about Japanese life within a time limit, just like playing a game. Users can learn about Japanese grammar, culture, and daily life, and the practice of answering questions within the time limit can be used to prepare for the Japanese Language Proficiency Test (JLPT).
Challenge mode:
Mode to solve quizzes and compete for points with app users around the world. Users compete for points based on their percentage of correct answers and speed of solving the quiz, and their world ranking is published. The rankings are published 4 times a day, and we hope that users will enjoy continuing to learn Japanese while competing for points with other learners of Japanese around the world.
Single mode:
Mode to solve quizzes without competing with other users. The percentage of questions answered correctly and the time required to answer them are kept in your history, allowing you to see the numerical results of your study.
■ Campaign
To celebrate the release of the new features, a campaign will be held to offer unlimited access to the "KURASHI Quiz".
・Period: March 23, 2022 (Wed) – April 30, 2022 (Sat)
・Eligible persons: Paid plan members and free plan members of "KURASHI STUDY"
・Discounts: Unlimited use of KURASHI Quiz function
| | | | |
| --- | --- | --- | --- |
| <Limitation of use> | During the campaign period | Paid plan members | Free plan members |
| Challenge mode | Unlimited | Up to 4 times a day | Up to once a week |
| Single mode | Unlimited | Unlimited | Up to 5 times a month |
■Background of the introduction of the new "KURASHI Quiz" function
SUN is involved in efforts to promote the digitalization of Japanese language education in Japan. We have held online regional Japanese language classes using the Japanese language education app "KURASHI STUDY" in cooperation with local governments and Japanese language education institutions.Through these activities, we interviewed people involved in Japanese language education, and received several requests for a "function to measure my ability" and "a function to compare my ability with other learners" in order to continue studying Japanese while having fun. This led to the introduction of a "KURASHI Quiz" function that incorporates a game element of solving problems and competing with others.
■ Japanese language app "KURASHI STUDY"
https://kurashi-study.net
KURASHI STUDY is a story-based Japanese learning app that teaches Japanese grammar, expressions, vocabulary, and pronunciation through conversation. With a total of 96 scenes based on Japanese life, you can also learn the rules of life and administrative rules necessary for living in Japan. All conversations are audio-recorded, so you can improve your Japanese "reading, listening, and speaking" skills just by using the app, without going to school. The app also has an "Online Japanese Conversation (Talk)*" service that allows you to take private lessons with a professional Japanese language teacher. You can freely ask for help with things you don't understand in your independent study, or with any problems you may have in your life in Japan. It also conforms to the scope and format of the Japanese Language Proficiency Test (JLPT), and is recommended for those aiming to acquire N5 to N2 levels.
* Online Japanese conversation(Talk) service is a paid option.
■ App overview
・Title: KURASHI STUDY(https://kurashi-study.net)
・Supported OS / Recommended operating environment: iOS/iPad version/OS 11.0 or higher, Android version/OS 5.0 or higher
・Languages supported: English, Vietnamese, Japanese
・Distribution countries: Bangladesh, India, Indonesia, Japan, Malaysia, Nepal, Philippines, Thailand, Vietnam
・Development and operation company: SUN Co., Ltd
・How to download
■ SUN Co., Ltd
We are an IT company that operates a system integration business, Web design and a foreign resident support business under the corporate philosophy "To become a globally-renowned company based on our mission 'connect people with people' ". We will actively hire globally, and by connecting people, create new value and deliver innovation to the world.