2023.11.16
SUN to Exhibit at International Job Fair Tokyo 2023 – Recruiting Global Professionals in the IT Industry –
SUN (Head office: Minato-ku, Tokyo, President and CEO: Shumpei Nakasone) will participate in International Job Fair Tokyo 2023, a two-day job fair for foreign workers in Japan, starting on Friday, November 24.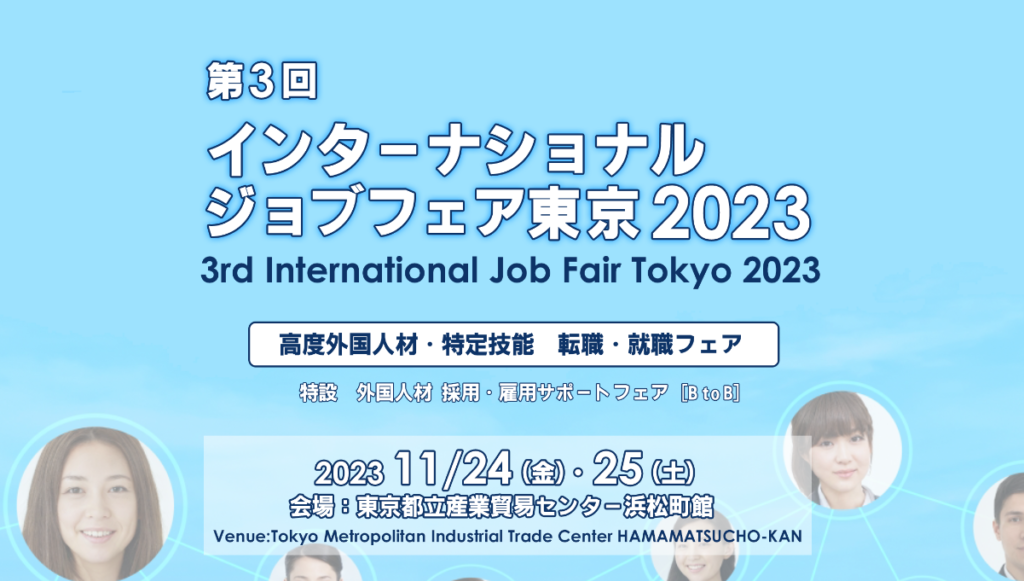 ■What we exhibit
1. Recruitment of Mid-career and New Graduates
SUN, which has a development base in Bangladesh, is growing its overseas business while expanding its sales channels to Germany in 2023 and to the United States in 2024. SUN's clients are no longer limited to Japanese companies; it is having business meetings with companies in Europe, the U.S., and Bangladesh as well, and needs to hire global human resources to grow its business. Therefore, at this job fair, SUN is seeking to fill positions for programmers, system engineers, infrastructure engineers, cloud engineers, project managers, project leaders, and testers.
2. Japanese language learning application "KURASHI STUDY" will be displayed
https://kurashi-study.net
SUN will display "KURASHI STUDY," a Japanese language learning application that is available in 19 countries around the world. With "KURASHI STUDY," users learn Japanese grammar, expressions, vocabulary, pronunciation, and other aspects of the Japanese language through conversations based on "Japanese daily life. It features not only language training, but also the opportunity to learn about necessary manners and administrative rules of daily life. It also meets the coverage and format of the Japanese Language Proficiency Test (JLPT) N5 to N2 levels.
3. Japanese language learning service for foreign employees, "HANASU PLUS", will be presented in public for the first time.
SUN, which promotes the digitalization of Japanese-language education in Japan, will present "KURASHI STUDY HANASU PLUS," a Japanese-language learning service for foreign employees launched in 2023, to the public for the first time. This is a conversation-specific Japanese language study service that includes "Hanasu (speaking)" in addition to basic Japanese language study, and the curriculum is designed to make it easy and fun to continue learning through the use of digital learning materials. At the SUN booth at the exhibition, demonstrations of the online learning materials will be displayed, and the Japanese language teachers who planned the curriculum and online lessons will introduce the service.
■What is "International Job Fair Tokyo 2023"?
https://inter-jobfair.jp/
It is a job fair that connects foreign workers seeking jobs in Japan with companies wishing to hire highly skilled and specified skilled human resources. It will be held as one of the "Comprehensive Support World for Foreigners," an exhibition promoting the realization of a multicultural society. Mr Katsunobu Kato, former Chief Cabinet Secretary and former Minister of Health, Labor and Welfare, and Ms Shinko Fukuhara, Director of the Residence Management Support Department, Immigration and Residence Management Agency, will speak as panelists at the session.
■Outline of the event
Event name:International Job Fair Tokyo
Date and Time:November 24 (Fri) 10am-5pm / November 25 (Sat) 10am-4pm
Venue :Tokyo Metropolitan Industrial Trade Center HAMAMATSUCHO-KAN
Organizer :International Job Fair Committee
Co-Organizer : The Japan Association for the Employment of Foreign Nationals
Supporter : Ministry of Justice, The Immigration Services Agency ,JP-MIRAI
Website :https://inter-jobfair.jp/
Concurrent Exhibition : 4th EXPAT EXPO TOKYO 2023  https://expat-expo.jp/
1st International Student School Fair 2023 https://expat-expo.jp/shingaku/
■ SUN Co., Ltd
https://www.sun21.co.jp/
We are an IT company that operates a system integration business, Web design and a foreign resident support business under the corporate philosophy "To become a globally-renowned company based on our mission 'connect people with people' ". We actively hire globally, and by connecting people, create new value and deliver innovation to the world.