2022.08.25
Perfect Season for New Beginnings! Japanese Language Learning App "KURASHI STUDY" Discount Offers to Support Your Learning in September!
SUN (Headoffice: Minato-ku, Tokyo, President and CEO: Shumpei Nakasone) has announced a seasonal offer, "Autumn Special Offer: Best Season to Study!" on its Japanese learning app "KURASHI STUDY" on Thursday, September 1,2022.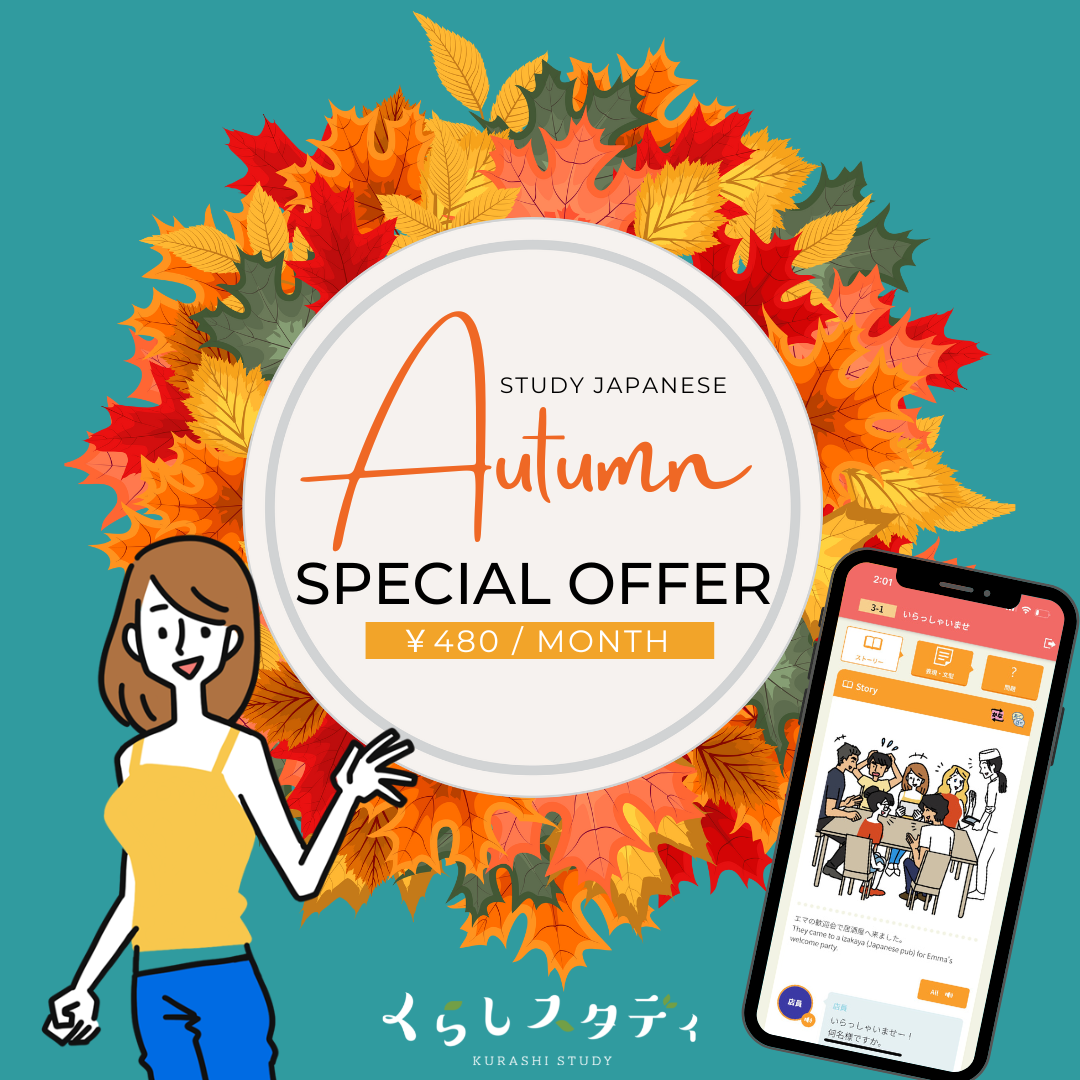 Midsummer is over and the weather has become more enjoyable. In Japan, there are many words for autumn, such as "Autumn for sports" "Autumn for reading" "Autumn for eating" and "Autumn for art" because the comfortable climate encourages people to concentrate on something. It's also the start of a new semester, a great time to start something new! Therefore, the Japanese language learning app "KURASHI STUDY" will offer a special discount to support "Autumn for Study".
■Description of the special offer
Name:『Autumn for study』Support promotion! Enjoy learning Japanese anytime, anywhere!
Description: Subscription "1 month plan" offered for ¥480
Eligible persons: First-time subscribers to KURASHI STUDY's paid plans during the promotion period
Period: From 15:00 Thursday, September 1, 2022 to 14:59 Friday, September 30, 2022 *Japan Standard Time/JST
■Japanese language learning app "KURASHI STUDY" https://kurashi-study.net
"KURASHI STUDY" is a story-based Japanese learning app that teaches Japanese grammar, expressions, vocabulary, and pronunciation through conversation. With a total of 96 scenes based on Japanese life, you can also learn the rules of life and administrative rules necessary for living in Japan. All conversations are audio-recorded.In addition, a paid option for one-on-one "online lessons" with a professional Japanese language teacher is also available, allowing students to improve their "reading, listening, and speaking" skills without going to school. It also conforms to the scope and format of the JLPT (Japanese Language Proficiency Test) N5 to N2 levels.
■App overview
・Title: KURASHI STUDY((https://kurashi-study.net)
・Supported OS / Recommended operating environment: iOS/iPadOS 11.0 +, AndroidOS 5.0+
・Languages supported: English, Vietnamese, Japanese
・Distribution countries: Bangladesh, India, Indonesia, Japan, Malaysia, Nepal, Philippines, Thailand, Vietnam
・Development and operation company: SUN Co., Ltd
・How to download
▼App Store:https://apps.apple.com/jp/app/id1542314715
▼Google Play:https://play.google.com/store/apps/details?id=net.kurashi.study
■SUN Co., Ltd
We are an IT company that operates a system integration business, Web design and a foreign resident support business under the corporate philosophy "To become a globally-renowned company based on our mission 'connect people with people' ". We actively hire globally, and by connecting people, create new value and deliver innovation to the world.