2022.10.11
f speaks at the Seminar! "Bangladesh IT Industry – The Potential of Digital Bangladesh" & Introduction of "Japan Valley"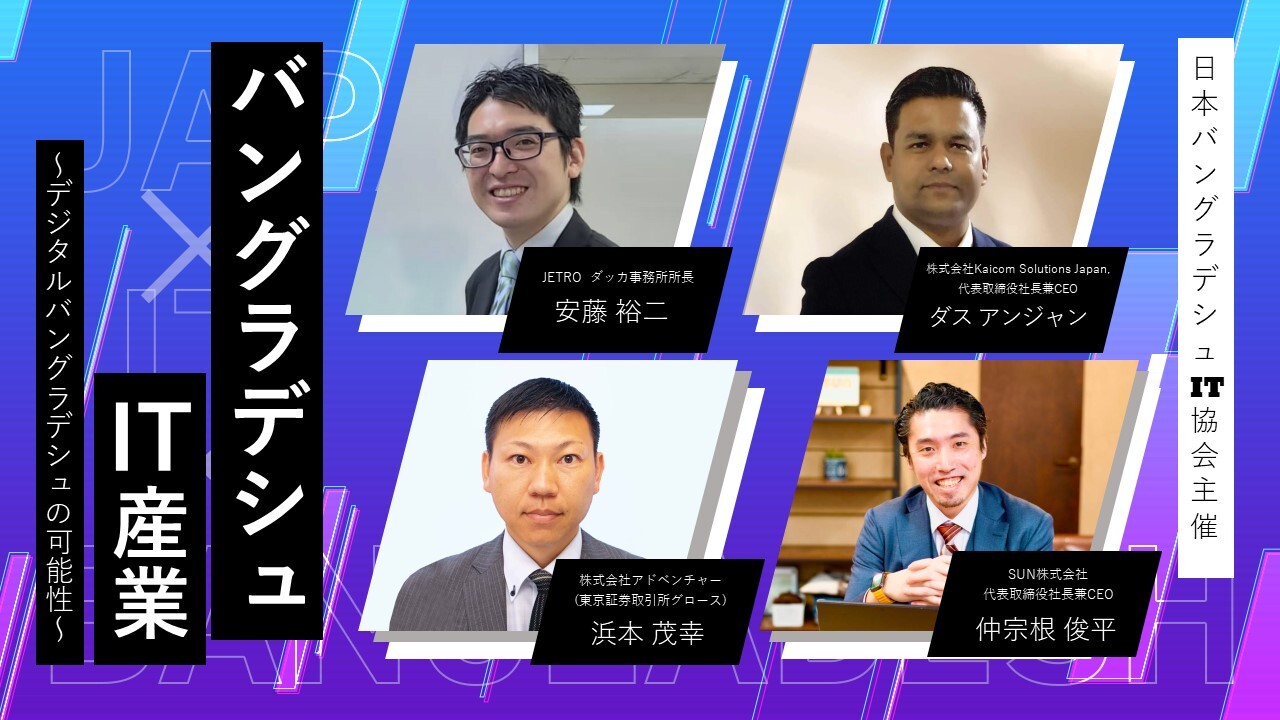 Bangladesh marks the 50th anniversary of the establishment of diplomatic relations with Japan this year, 2022. With a population of approximately 161 million, this country is a digital powerhouse with hidden IT business opportunities.
In this seminar, we will welcome the head of JETRO Dhaka office to provide the latest information on Bangladesh's economy and its attractiveness.
We will also introduce the Japan Bangladesh IT Association, which was established on October 1, 2022, and "Japan Valley," a project to support Japanese companies entering the Bangladeshi market to enhance the Japan brand.
■Event overview
■Seminar Details
18:00~18:10
Opening Remarks
Japan Bangladesh IT Association
Takahisa Mikami
18:10~18:20
"Economic Situation and Attractiveness of Bangladesh"
Head of JETRO Dhaka Office: Yuji Ando
18:20~18:30
Companies Background of Bangladesh Expansion
Adventure Corporation (Listed on Tokyo Stock Exchange Growth)
Shigeyuki Hamamoto
18:30~18:40
Introduction of Japan-Bangladesh IT Association (J-BIT)
Kaicom Solutions Japan Co. Ltd CEO: Anjan Das
18:40~18:50
Introduction of establishment of "Japan Valley"
SUN Co., Ltd. President & CEO: Shumpei Nakasone
18:50~19:00
Q & A
*Some of the contents may be changed.
■Introduction of Speakers
JETRO Dhaka
Head of Office: Yuji Ando
Joined JETRO in 2008. After working in the Research and Planning Department of the Institute of Developing Economies, JETRO Dhaka Office (practical trainee), Lifestyle, Culture and Service Industry Department, and JETRO Hamamatsu, he has been in his current position since March 2019. He is the author of the Japanese book "知られざる工業国バングラデシュ " (Bangladesh, the Unknown Industrial Country) .
Kaicom Solutions Japan Co. Ltd
CEO: Anjan Das
Graduated from Bangalore University in India and Shizuoka University in Japan, he joined Oki Electric Industry Co., Ltd. and engaged in software development and OKI's ATM overseas business. In 2017, he established Kaicom Solutions Japan Co. Ltd as a software development company and investment consulting firm in Japan and Bangladesh. Currently, he also serves as SME Coordinator at JETRO Dhaka, providing services to support Japanese companies entering the Bangladeshi market and smooth business operations in Bangladesh.
SUN Co., Ltd.
President & CEO Shumpei Nakasone
After working in insurance and advertising, he established SUN Co., Ltd. in 2018. With the goal of making a contribution to the world, he is developing his business based on IT. Having spent his childhood in the U.S., he is also involved in promoting projects to support foreign residents in Japan, and will open a branch in Bangladesh in 2022, where he is actively working to develop the local economy.
■What is Japan-Bangladesh IT Association (J-BIT)
It is an association of companies working to contribute to the development of the IT industry in Bangladesh and Japan, and to improve the economic, social, and national life of the two countries through two-way communication between the public and private sectors of the two countries.By supporting Japanese companies to expand their business in Bangladesh, we aim to build a top world-class IT society in Bangladesh and Japan.
■What is Japan Valley
The "Japan Valley" project has been launched in Bangladesh with the aim of enhancing the Japan brand and creating innovation through collaboration among Japanese companies. As the first activity of this project, we provide total support services for Japanese companies expanding into Bangladesh.