2021.12.08
Japanese language learning app "KURASHI STUDY" hits over 20,000 downloads Finally in Vietnam! Also available in Vietnamese!
SUN Co., Ltd. (Headoffice: Minato-ku, Tokyo, President and CEO: Shumpei Nakasone), the operator of the Japanese language learning app "KURASHI STUDY" released the app in Vietnam on Wednesday, December 8 for iOS and Android. In addition, we have added Vietnamese to the supported languages of the app.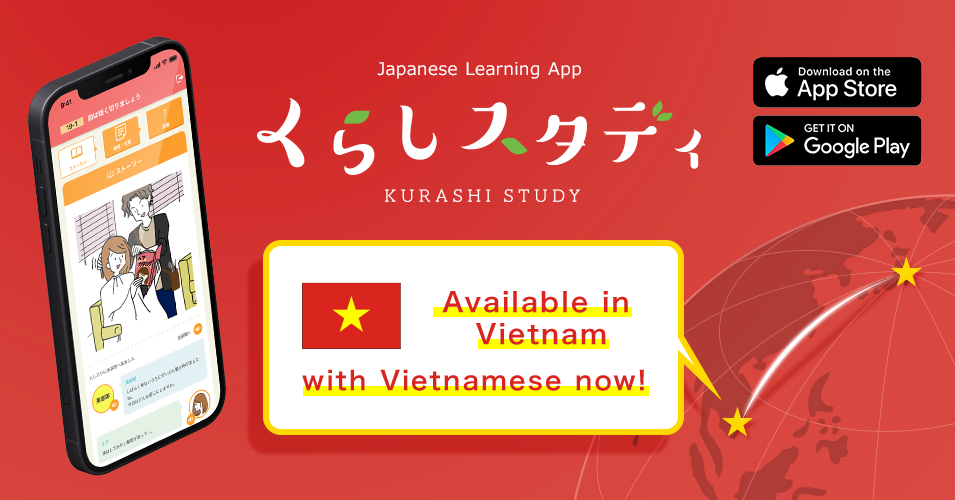 "KURASHI STUDY" is an app for enjoying learning Japanese through stories. Since its release in March 2021, the app has been sold in Japan, India, Bangladesh, Philippines, Malaysia and Nepal, and has been downloaded more than 20,000 times. With this release, the third in a series of overseas expansions, the iOS and Android versions of "KURASHI STUDY" are now available in Vietnam. With the "Free Plan" that allows you to experience the world of "KURASHI STUDY", you can use the "Self-Study Mode" that supports independent study with all its functions without any limitations.
■ Functions supported in Vietnamese
・Story Mode (Scenes 1 to 96) : All functions
・Self-study mode: All functions (including Grammar notes and Wordbank)
・System language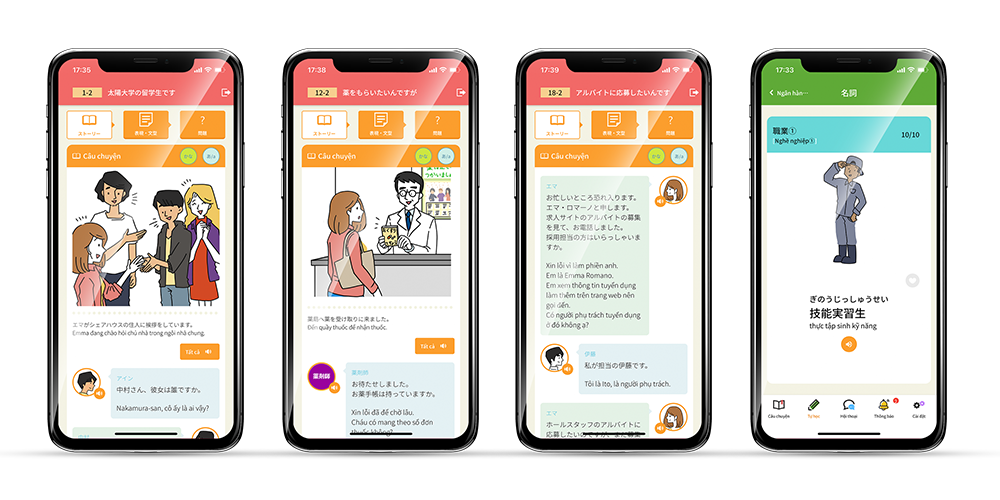 ■ What makes us decide to expand into Vietnam?
A new residency status "特定技能 (Special Skills)" system started in April 2019. According to the "Number of Foreigners Residing in 特定技能1号 (Specified Skills Type 1)" (preliminary figures) by the Immigration Services Agency of Japan's Ministry of Justice, the number of foreign nationals holding the "特定技能1号 (Specified Skills Type 1)" status of residence in Japan exceeded 38,000 as of September 2021. By nationality and region, Vietnam accounted for 62.5% of the total, the largest number.
At the summit meeting between Prime Minister Kishida and H.E. Mr. PHAM Minh Chinh, Prime Minister of the Socialist Republic of Vietnam, held on November 24, Prime Minister Kishida stated that "Vietnamese human resources are an important part of the Japanese economy" and that Vietnamese people living in Japan play an important role in today's Japanese society.
In light of these trends and the expected increase in the number of Vietnamese people visiting Japan in the future, we have decided to expand our business to Vietnam. We hope that through KURASHI STUDY, they will be able to learn not only the Japanese language but also Japan's unique rules and lifestyle in advance, which will help them with their life in Japan.
■ Strengths of KURASHI STUDY
KURASHI STUDY is a story-based Japanese learning app that teaches Japanese through conversation. The 96-scene story captures real life in Japan, and all the conversations of the characters are audio recorded.In addition to learning real Japanese, you can also learn the rules of daily life and administration necessary for living in Japan. The "Online Japanese Conversation (Talk)" service allows you to take private lessons with a qualified Japanese language teacher, supporting your independent study. You can learn "reading, listening, and speaking" in one app, which can also be used to prepare for the JLPT N5 to N2 levels.
■ App overview
・Title:KURASHI STUDY (https://kurashi-study.net/en/index.html)
・Supported OS / Recommended operating environment:
iOS/iPad version/OS 11.0 or higher, Android version/OS 5.0 or higher
・Development and operation company: SUN Co., Ltd
・Price: Starting from 980 yen/month
・How to download
■ Related releases
■ SUN Co., Ltd
We are an IT company that operates a system integration business, Web design and a foreign resident support business under the corporate philosophy "To become a globally-renowned company based on our mission 'connect people with people' ". We will actively hire globally, and by connecting people, create new value and deliver innovation to the world.