2022.07.15
First Chugoku Region Office Opened in Hiroshima Strengthen sales and development systems and support employees' relocation to local areas
We are pleased to announce that SUN Co., Ltd. (Headoffice: Minato-ku, Tokyo, President and CEO: Shumpei Nakasone) opened a "Chugoku branch office" on July 15, 2022 (Friday), as its first base in the Chugoku region. It was established to revitalize the region by strengthening the development and sales systems. We will also support regional migration, such as "U-turns" (= returning to local area) and "I-turns" (= moving to local area), moving highly skilled personnel from cities to local areas.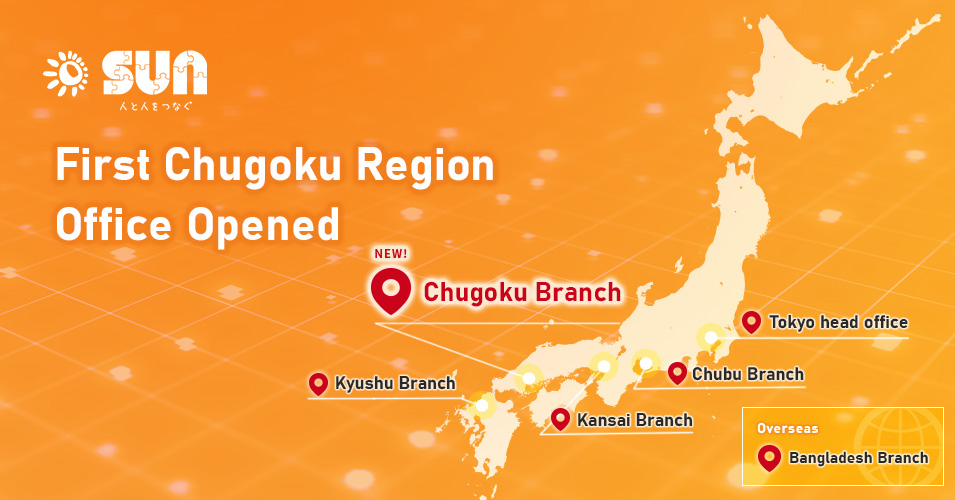 ■ Purpose of opening the brach office
From urban areas to local areas Revitalize the region
SUN is strengthening regional recruitment with the aim of contributing to the "growth of local business" and "revitalization of the region". As part of these activities, we have opened our first "Chugoku branch office" in the Chugoku region. The Chugoku branch will provide IT-based digitalization proposals to local governments and companies in the Chugoku region, and will also sell its own services to support foreign residents in the region. We also hope to realize "regional revitalization" by growing as a development base for projects undertaken by our branches nationwide.
In addition, SUN has joined the Cabinet Office's "Telework Promotion Project for Regional Revitalization" and declared our support for diversity in the "WORK" and "LIFE" of our employees.The "Remote work system" was introduced on a full scale due to the spread of the novel coronavirus infection, and now 70% of all employees are working from home using the system. We intend to use this remote work system to support and strengthen recruitment of employees who are from the Chugoku region (U-turn) and those who wish to move to the region (I-turn).
【New location info】
Name
SUN Co., Ltd Chugoku Branch office
Location
Hiroshimajounan Riverside B.L.D 11F
5-20 Teramachi Naka-ku, Hiroshima City, Hiroshima Prefecture
Access
3 mins walk from Yokokawa Line "Teramachi Station"
Businesses

・System Integration Service (Contracted development and lab-based development)
・Web Design
・Sales of our own service "KURASHI STUDY"

Business start date
July 15, 2022
【SUN Co., Ltd Company overview】
Company name
SUN Co., Ltd
Address

Tokyo Head Office:Noax Bld 3F, 1-16-4 Nishi-shimbashi, Minato-ku, Tokyo
Kansai Branch Office:Osaka Ekimae 4th Bld 9F, 1-11-4-923 Umeda, Kita-ku, Osaka City, Osaka
Chubu Branch Office:Ichigo Sakae Bld 9F, 3-15-27 Sakae, Naka-ku, Nagoya City, Aichi Prefecture
Chugoku Branch Office:Hiroshimajounan Riverside B.L.D 11F, 5-20 Teramachi Naka-ku, Hiroshima City, Hiroshima Prefecture
Kyushu Branch Office:Hakata Kaisei Bld 2F,2-5-28 Hakataeki-higashi, Hakata-ku, Fukuoka City, Fukuoka Prefecture
Bangladesh Branch Office:Anz Huq Eleven Square, 7F, Plot-1, Block H, Rd. No. 11,
Banani, Dhaka, 1213

Establishment
August 8, 2018
President
President & CEO: Shumpei Nakasone
Businesses

System Integration Service
Web Design and Operation & Maintenance
Foreign residents Support Service
・Japanese language learning app "KURASHI STUDY"
・Information website for foreign residents in Japan "KURASHI JAPAN"
■ SUN Co., Ltd
We are an IT company that operates a system integration business, Web design and a foreign resident support business under the corporate philosophy "To become a globally-renowned company based on our mission 'connect people with people' ". We will actively hire globally, and by connecting people, create new value and deliver innovation to the world.