2021.03.03
Supporting overseas residents during Corona! Japanese learning app "KURASHI STUDY" Only now! Free period extension campaign
SUN Co., Ltd. (Headquarters: Minato-ku, Tokyo, President and CEO: Shunpei Nakasone) is extending the free period for the Japanese language learning app "KURASHI STUDY", which was developed to support overseas residents in Japan during Corona, until March 31, 2021.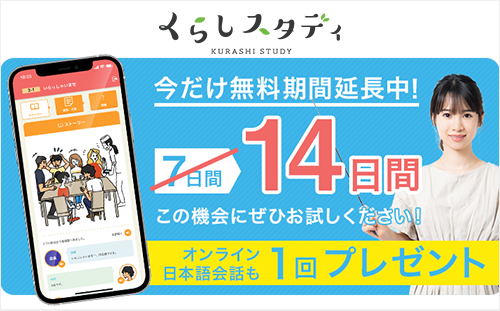 <Campaign info>
1. App free period extended by 14 days
2. Free lesson ticket worth 1100 yen for an online Japanese conversation with a Japanese teacher
If you download the app and register during this period then this campaign will be applied.
<Campaign period>
For those who have registered to use the app from March 3, 2021 to March 31, 2021.
* The free period is 14 days from the date of registration.
<Download method>
■ Campaign background
Official procedures are adapting daily due to the Corona pandemic, and it is not easy for overseas residents in Japan to follow these changes in Japanese. The language barrier has caused problems with obtaining information about preventative measures, and communication issues when visiting medical institutions. This campaign was initiated to help overseas residents in Japan, by providing a Japanese learning tool to overcome language and cultural barriers, in order to live a happy life in Japan, even during Corona.
This Japanese learning app "KURASHI STUDY" was developed as if you are advancing through a storybook, so that you learn the language, while also gaining insight about "living in Japan". This app was made for those who may feel a yearning to know more about Japan, deepen their appreciation of Japan, or dream of living in Japan, and we hope that this app will make learning Japanese enjoyable and be useful while living in Japan.
■ What is "KURASHI STUDY" https://kurashi-study.net
It is a Japanese learning app and by advancing through the story, teaches both the "Japanese language" and about "living in Japan". The content was made for overseas Japanese learners, especially those who are preparing to live in Japan or those who want to overcome language barriers whilst already living in Japan. The app helps the learner not only develop the basic skills of reading, listening, and speaking, but also learn about various rules that are necessary for living in Japan. The vocabulary and expressions that appear in the story have been selected to be useful in "everyday life in Japan" and some of these expressions may not be found in other teaching materials. Additionally, inclusive support for the N5 – N2 levels of the JLPT (Japanese Language Proficiency Test) and online Japanese conversations are provided through one-on-one communication with a Japanese teacher.
■ SUN Co., Ltd.
We are an IT company that provides services for system integration, foreign resident support, and IT human resources. Our company mission is "To become a globally-renowned company based on our mission 'connect people with people' ". We will actively hire globally, and by connecting people, create new value and deliver innovation to the world.